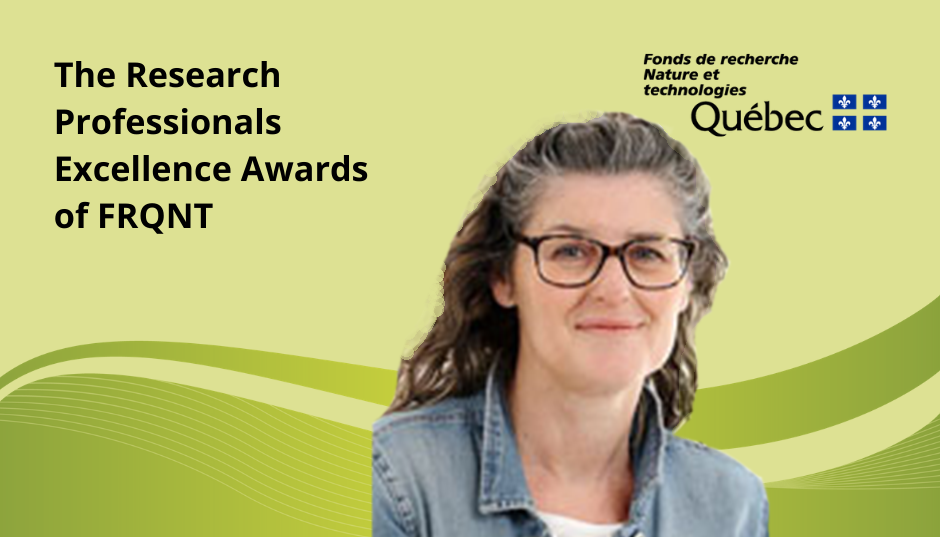 1st prize: Pascale Chevallier, CHU de Québec-Université Laval
Pascale Chevallier, a research professional at the CHU de Québec-Université Laval Research Centre, holds a PhD in polymer chemistry. She is the head of an advanced platform for the modification and characterization of material surfaces that encourages a transdisciplinary approach to improve the clinical performance of biomaterials and cardiac, vascular, dental, orthopaedic and, more recently, neurological implants.
An active member of the Canada Research Chair in Biomaterials and Bioengineering for Innovation in Surgery team, she is also an essential resource for the researchers at two research centres recognized by Université Laval and the FRQ: the Research Centre for Advanced Materials (CERMA) and the Quebec Centre for Advanced Materials (CQMF).
Since 2006, she has been a daily reference for more than 150 student researchers from 40 different countries, more than 25 of whom are now professors. Involved in 60 projects in collaboration with research teams from the five continents, Pascale has co-authored 135 scientific articles and 3 patents. She has also contributed to the development of several medical devices and antibacterial products.
Pascale is highly involved in the life of the laboratory, the development and writing of grant applications, the implementation and management of industrial research contracts, and the writing of scientific publications. Her interpersonal skills also enable her to manage the day-to-day activities of collaborative industrial and university projects at the international level.